Co-opMontana.com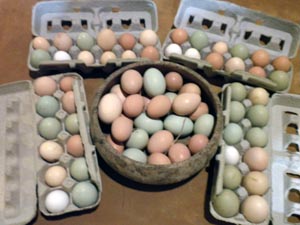 Co-opMontana.com is a proposed producer-driven cooperative to provide convenient access, ordering, and distribution of Montana-grown and Montana-made products. In one shopping cart with one easy payment, retail stores and restaurants can place orders from producers state-wide. The distribution system is circular, with every delivery stop also being a potential pick-up point where producers can meet the truck and hand-over goods that have been ordered by other stores and restaurants. Shipping costs and administrative expenses will be covered by a flat rate fee (i.e.: 4%-5%?) on all products. Producers will receive a weekly payment electronically deposited by the Co-op, combining payments from purchasers state-wide. Conceived by author and eco-preneur Thomas J. Elpel, Co-opMontana.com will give Montana farmers and producers a competitive edge in getting products to local markets.

Co-op Montana would make it possible for stores and restaurants to place wholesale orders from any grower, producer, or manufacturer in the state with one easy website and shopping cart, with delivery through a circular shipping service.


At present, there are many growers and producers with small-scale operations, such as growing a limited supply of tomatoes or garlic. To get their products to market, they have to either hop in a car and drive a box of food to town, or pad the box for shipping and pay high fees for UPS or FedEx to transport the goods to the customer. The other option is to go big and mass produce an item in the hopes of securing a contract to ship the goods to an out-of-state distributor, who will then ship the product back to stores across the state.

The Co-op Montana model would enable stores and restaurants to order from numerous small producers in one quick stop. Producers would pack and label their goods for each destination, then meet the delivery truck at the nearest stop... turning every delivery point into a pickup point to minimize wasted time and expense. A program like this could provide a viable revenue stream for hundreds of small-scale producers, while providing cost-competitive and healthier food to Montana consumers. The delivery trucks could even potentially collect waste vegetable oil from restaurants along the route, dropping it off at a centralized processing station to be converted into biodiesel to power the fleet.


Montana and our nation are woefully unprepared to deal with rising fuel prices and tight economic times. The sooner we go green, the sooner we can profit through a conservation-based approach to life and business. We can do it now and prosper, or we can do it later out of necessity and desperation, but one way or the other, we will convert to a green economy. Obviously, it would be better to make it a smooth transition, and Co-opMontana.com can help make that happen.

Project Manager Needed
We would like to see Co-opMontana.com become a reality, however, we presently have more irons in the fire than we can handle to take on something like this by ourselves. What we really need is a project manager, someone willing to dedicate the time and energy to make this producer cooperative happen. The project has the potential to earn a significant return for the investment of labor and love. What it really needs is someone with some database programming skills and/or the administrative skills to see a vision and pull it together.

If this is a project you might be interested in, please consider signing up for our Green University® Internship or contact us if you would like to take charge of the project from your current home or office.

Similar Efforts
Since launching this website, two other websites have been launched tackle the challenge of ordering and distribution in Montana. Montana Co-op shares many similarities with our proposed Co-op Montana, presently focussed in northwest Montana, allows retail customers to order products from numerous farms, ranches, and other businesses. Producers deliver the goods to a convenient pick-up point once a week, where the customer can pick up their whole order.

Kickstart Wholesale, on the other hand, facilitates connections between producers and vendors. In one stop, vendors can order from many different vendors. The website forwards the order to each of the producers, who then ship the products and bill the vendors.

As these projects continue to evolve and improve, it may become unnecessary to add yet another ordering system!